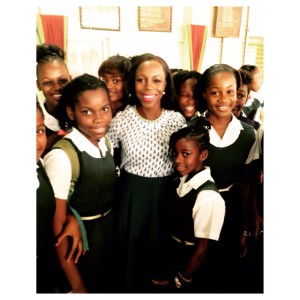 January is a special month as it marks the beginning of each New Year. It is the month when people set new goals and expectations. I rang in the brand new 2015 at church with my better half and my sisters and brothers in Christ. This month is also special as track and field season begin for those competing indoors. My team and I decided to skip the indoor season. So as a spectator, I am enjoying watching my fellow athletes compete. I want to take this opportunity to wish all participating in the indoor season great results and good health. I began the month with intense training as I continue to progress towards my objectives for the outdoor season while maximizing the talent that God has given me.
I travelled to Jamaica, the beautiful island of my birth. I attended a few events, including the Sportsman and Sportswoman awards hosted by the RJR foundation. Congratulations to swimmer Alia Atkinson and boxer Nicholas Walters on earning the titles of sportswoman and sportsman for 2014 respectively. I am grateful for everyone who took time out to recognize us athletes for our work and to all the sponsors who made the events successful. It is a blessing to do what we do and to be recognized for our efforts, makes us feel appreciated.
While in Jamaica, I took time out to conduct two empowerment sessions for girls, one at my alma mater, Vere Technical High School and the other at St. Andrew Technical High School. I enjoy being an athlete as much as I enjoy giving back to society. The sessions were well received and I appreciate both schools for giving me the forum to engage the young ladies as I take my calling as a role model and that of being a UNESCO Champion for Sports Ambassador quite serious. Incidentally, these are two of the four schools that are recipients of scholarships from the Veronica Campbell Brown Foundation.
Thanks for reading, VCB